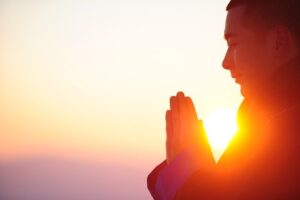 Introduction to Meditation Course
Cost: Free Tuesday Evenings, 6 PM – 6:45PM
Event details here.
Introduction
Meditation is a set of practices that help us train our mind. The goal of meditation is to be able to see reality clearly, as it really is, free from the colouration of our thoughts, feelings and emotions. The benefits of regular meditation practices are many, and include:
Feeling more connected to the world you live in
Reducing your stress and anxiety
Understanding what drives you and the people around you
Becoming less affected by negative emotions
Being able to address difficult issues in your life
In this nine-week course, you will be introduced to basic meditation practices, and learn how to apply these to your daily life.
There is no teaching of theology and there is no requirement to practice any particular religion, or any religion at all, to participate and benefit from this course. All are welcome.
About our approach to Meditation
The approach we take in this course is based on ancient practices from Buddhism and from contemplative Christian traditions, especially the desert monastic and Carmelite traditions. The basic practices such as practising mindfulness, watching the breath and the approach to analytical meditation come from northern (Tibetan) Buddhist schools, and the approach to contemplation on love later in the course is based on the teachings of St John of the Cross and St Teresa of Avila. This course has been developed based on the meditation experience and teaching received by the instructor over more than twenty years and is not associated with any formal school of Christian meditation, such as the WCCM.
Course Notes
57 Day meditation on St Teresa's The Interior Castle